---
Home » Exhibitions » Current Exhibitions

[Special Exhibition]
Rubens and the Birth of the Baroque
Dates:

Tuesday, 16 October 2018 - Sunday, 20 January 2019

Hours:

9:30 am – 5:30 pm
Fridays, Saturdays 9:30 am – 8:00 pm
17 November 2018 9:30 am – 5:30 pm
Admission ends 30 mins. before closing time

Closed:

Mondays except 24 December 2018 and 14 January 2019.
Closed on 28 December 2018-1 January 2019, 15 January.

Organized by:

The National Museum of Western Art,
TBS,
The Asahi Shimbun

With the support of:

Embassy of Belgium,
Embassy of Italy in Tokyo,
VISTFLANDERS,
BS-TBS,
TBS RADIO

With the special sponsorship of:

Daiwa Securities Group

With the sponsorship of:

Nissha Co., Ltd.,
Aioi Nissay Dowa Insurance Co., Ltd.,
MITSUI & CO., LTD.,
East Japan Railway Company,
Sugarlady CO., Ltd

With the cooperation of:

Alitalia-Società Aerea Italiana S.p.A,
Nippon Cargo Airlines Co., Ltd.,
Japan Airlines Co., Ltd.,
Nippon Express Co., Ltd.,
Lufthansa Cargo AG,
Lufthansa,
The Western Art Foundation

Admission Fees:

Adults 1,600 yen, College students 1,200 yen, High school students 800 yen
Advance purchase/Discount fees for groups of 20 or more:
Adults 1,400 yen, College students 1,000yen, High school students 600 yen
Advance purchase tickets will be on sale from Monday 2 July until Monday 15 October 2018. At the museum ticket office, advance ticket will be available Tuesday 3 July until Sunday 14 October 2018.
For ticket sales from other than the museum's own ticket office, see the exhibition website.
Full admission fees apply from Tuesday 16 October 2018 .
Junior high school and younger children admitted free of charge.
Disabled visitors admitted free of charge with one attendant. Please present your disability identification upon arrival.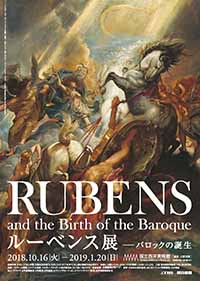 (PDF file, about 3.50MB)
Peter Paul Rubens (1577-1640) was one of the preeminent representatives of Baroque art flourished in Europe during the 17th century. Rubens and his studio pioneered a new style with a considerable number of paintings, and exerted a powerful influence on his contemporaries and artists of later generations. Rubens was also a skilled diplomat, who engaged in negotiations with royal courts throughout Europe.
This exhibition focuses on Rubens' relationship with Italy, where ancient and Renaissance art once thrived. Rome was also the center of Baroque art. Raised in Antwerp, Rubens became familiar with ancient culture as a child and had a special admiration for Italy. Beginning in 1600, he lived in the country intermittently for a period of eight years, and made great advances in his painting by studying the works he saw there. Along with Rubens' own paintings, this exhibition presents ancient sculptures, and works by Italian artists from the 16th century and the Baroque era. While examining what Rubens learned from Italy, it will shed light on the artist's ties to the Italian Baroque. This will be the largest display of Rubens' art in recent years in Japan.
Peter Paul Rubens
Portrait of Clara Serena Rubens
1615-16, Oil on canvas, mounted on panel, 37.3×26.9cm
©LIECHTENSTEIN. The Princely Collections, Vaduz-Vienna

Peter Paul Rubens
The Discovery of the Infant Erichthonius
1615-16, Oil on canvas, 243.5×345.5cm
©LIECHTENSTEIN. The Princely Collections, Vaduz-Vienna
Pieter Paul Rubens
Mars and Rhea Silvia
1616-17, Oil on canvas, 207.5×271.5cm
Vaduz-Vienna, Liechtenstein, The Princely Collections
©LIECHTENSTEIN. The Princely Collections, Vaduz-Vienna

Pieter Paul Rubens
The Fall of Phaëton
c. 1604/05,
Oil on canvas, 98.4×131.2 cm
National Gallery of Art, Washington, Patron's Permanent Fund, 1990.1.1