---
Home » Exhibitions » Current Exhibitions

Caravaggio and His Time: Friends, Rivals and Enemies
Dates:

Tuesday 1 March – Sunday 12 June 2016

Hours:

9:30 am - 5:30 pm
Fridays 9:30 am - 8:00 pm
Saturday 30 April 9:30 am - 8:00 pm
Sunday 1 May 9:30 am - 6:00 pm
(Admission ends 30 mins. before closing time)

Closed:

Mondays except 21 March, 28 March and 2 May. Closed on 22 March.

Organized by:

The National Museum of Western Art, NHK, NHK Promotions Inc., The Yomiuri Shimbun

With the support of:

Ministry of Foreign Affairs of Japan,
Embassy of Italy

With the sponsorship of:

Sompo Japan Nipponkoa Insurance Inc.,
TOPPAN PRINTING CO., LTD.

With the cooperation of:

Alitalia-Società Aerea Italiana S.p.A.,
Nippon Cargo Airlines Co., Ltd.,
JAPAN AIRLINES,
The Western Art Foundation

Admission Fees:

Adults 1,600 yen, College students 1,200 yen, High school students 800 yen

Advance purchase/Discount fees for groups of 20 or more:

Adults 1,400 yen, College students 1,000yen, High school students 600 yen
Advance purchase tickets will be on sale from Wednesday 6 January to Monday 29 February 2016. At the museum ticket office, advance ticket will be available until Monday 11 January 2016.
For ticket sales from other than the museum's own ticket office, see the exhibition website.
Full admission fees apply from Tuesday 1 March 2016.
Junior high school and younger children admitted free of charge.
Disabled visitors admitted free of charge with one attendant. Please present your disability identification upon arrival.


The Permanent Collection Galleries in the Main Building and New Wing will be closed for facilities maintenance from Tuesday 1 March to Friday 18 March 2016. Visitors to the Caravaggio exhibition during this period will each be given one ticket for free admission (limited time access) to the Permanent Collection Galleries. We apologize for any inconvenience caused by these plans and express our appreciation for your understanding.
Caravaggio
Bucchus
c.1597-1598 oil on canvas
Florence, Galleria degli Uffizi
© Alinari, Licensed by AMF, Tokyo / DNPartcom
Reproduced with the permission of Ministero per i Beni e le Attività Culturali
Michelangelo Merisi da Caravaggio (1571–1610) was a brilliantly talented Italian painter renowned today as one of the greatest masters of Western art history. Caravaggio's dramatic use of light and shadow that puts his figures in sharp relief and his plain realism that defied any idealization form the motive forces behind the flowering of a new age of art known as the Baroque. Indeed, his painting style was fervently carried on by painters throughout Europe, not only in Italy, influencing major artists such as Rubens, La Tour and Rembrandt.
This exhibition featuring approximately 50 works will showcase Caravaggio's masterpieces loaned from major Italian museums, along with works by the important painters in each country that reveal his influence. To introduce the entirety of Caravaggio's artistic and private personalities, the display will also include original archival documents on lawsuits, violence, and other troubles that characterized the artist's strife-torn life.
Lectures and Slide Talks will be also held at a museum. Please visit each page for detail.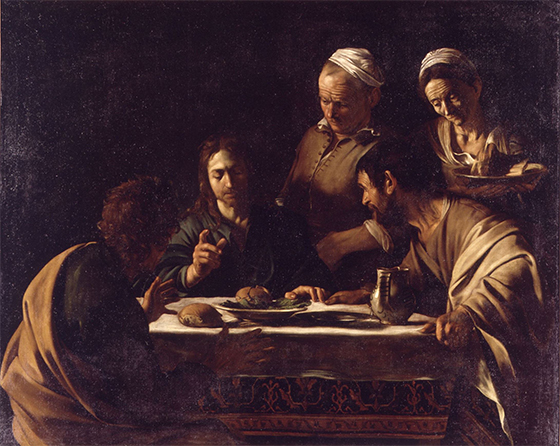 Caravaggio
The Supper at Emmaus
1606 oil on canvas
Milan, Pinacoteca di Brera
Photo courtesy of Pinacoteca di Brera, Milan
Caravaggio
The Fortune Teller
c.1597 oil on canvas
Rome, Pinacoteca Capitolina
ⓒArchivio Fotografico dei Musei Capitolin