Current Exhibitions

Exhibition


Another 19th Century: Bouguereau, Millais, and the Academic Painters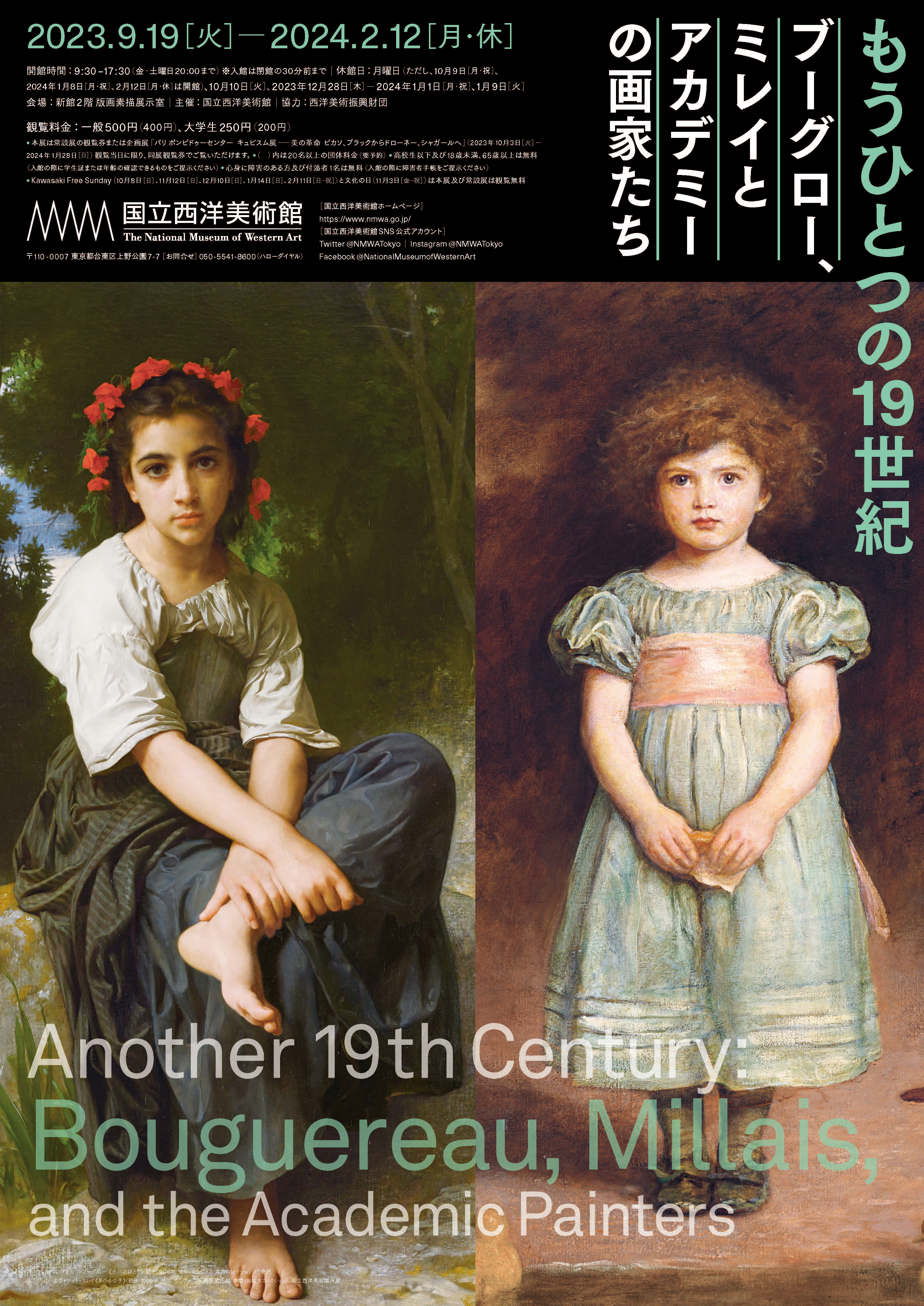 Dates

Tuesday, 19 September 2023 - Monday, 12 February 2024

Hours

9:30 am – 5:30 pm
Fridays, Saturdays 9:30 am – 8:00 pm
Admission ends 30 mins. before closing time

Closed

Mondays (except 9 October 2023, 8 January and 12 February 2024), 10 October, 28 December 2023 - 1 January, and 9 January 2024

Venue

Prints and Drawings Gallery, New Wing

Admission Fees

Adults 500 yen (400 yen), college and university students 250 yen (200 yen)

* Admission is free for Special Exhibition or Permanent Collection ticket holders.
* Numbers in parenthesis indicate discount fees for groups of 20 or more.
* Free for high school students, under 18, seniors (65 and over), Campus Members. Please show your ID upon entrance.
* Disabled visitors admitted free of charge, with one attendant. Please present your disability identification upon arrival.
* Free admission of this exhibition and Permanent Collection on 8 October, 12 November, 10 December 2023, 14 January and 11 February 2024 (Kawasaki Free Sunday).
* Free admission of this exhibition and Permanent Collection on 3 November 2023 (Culture Day).
Organized by

The National Museum of Western Art

With the cooperation of

The Western Art Foundation

Brochure

PDF file 602KB
If the topic is "French and British art of the second half of the 19th century," what kind of paintings come to mind? For many, it would be the products of French Realism and Impressionism or, in the case of Britain, the works of the Pre-Raphaelites and the Aesthetic Movement.
Nevertheless, in the background of these innovative art movements and the painters who followed them, now thought of as the shapers and definers of their era, there were always the academic painters.
Satisfied with the central position in the art world of the academy—the French art academy founded in 1648 as the Académie Royale de Peinture et de Sculpture and Britain's Royal Academy of Arts, founded in 1768, in this case—and ever respectful of the classicist style, those artists, in fact, occupied the mainstream and embodied the accepted norms of their profession.
In the late 19th century, however, the art academy's authority and traditions were shaken by the rapid modernization of society. For instance, the established hierarchy of painting genres that placed history painting at the top gradually lost relevance and the boundaries between genres became increasingly blurred. Those painters who adhered to the academy could not be indifferent to the changing times and the emergence of alternative schools of painting. In order, therefore, to pass on their traditions and accomplishments to later generations, in this transformative era, they adopted fresh subject matter and changed their styles and mediums to meet the new demands, while still remaining faithful to the academy. By tracing the careers of academic painters from both countries and focusing on the different subjects, motifs, and models seen in their works, this exhibition aims to highlight the flexibility and strategizing that enabled them to keep alive "another 19th century."
Exhibition Checklist (PDF file, about 1.04MB)

William Adolphe Bouguereau,

The Edge of the Brook

, 1875, Oil on canvas, Deposit

John Everett Millais,

Ducklings

, 1889, Oil on canvas, Donated by Mr. Tokuzo Mizushima (ex-Matsukata Collection), National Museum of Western Art, Tokyo

William Adolphe Bouguereau,

Portrait of Gabrielle Cot

, 1890, Oil on canvas, Deposit

Raphaël Collin,

Poetry

, 1899, Oil on canvas, National Museum of Western Art, Tokyo

Jean-Jacques Henner,

Portrait of Mrs. L. Noetzlin

, Oil on canvas, Matsukata Collection, National Museum of Western Art, Tokyo