Past Exhibitions


Monet, An Eye for Landscapes: Innovation in 19th Century French Landscape Paintings
Monet, An Eye for Landscapes: Innovation in 19th Century French Landscape Paintings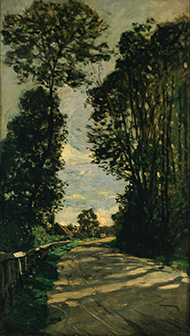 Claude Monet
《Walk (Road of the Farm Saint-Siméon)》
1864 oil on canvas 
81.6 x 46.4cm
The National Museum of Western Art Matsukata Collection
Dates

Saturday 7 December - Sunday 9 March 2014

Hours

9:30 am – 5:30 pm
Fridays 9:30 am - 8:00 pm
8 March - 9 March 9:30am - 8:00pm
(Admission ends 30 mins. before closing time)

Closed

Mondays except 23 December and 13 January.
Closed on24 December and 14 January,
28 December to 1 January.

Organized by

The National Museum of Western Art, Pola Museum of Art, Tokyo Broadcasting System Television, Inc., The Yomiuri Shimbun

With the cooperation of

Nippon Express, East Japan Railway Company, The Western Art Foundation

Admission Fees

Adults 1,400 yen, College students 1,200 yen, High school students 700 yen
Advance purchase/Discount fees for groups of 20 or moreAdults 1,200 yen, College students 1,000yen, High school students 600 yen
Advance purchase tickets will be on sale until Friday 6 December. At the museum ticket office, advance ticket will be available until Thursday 5 December.
For ticket sales from other than the museum's own ticket office, see the exhibition website.
Full admission fees apply from Saturday 7 December.
Junior high school and younger children admitted free of charge.
Disabled visitors admitted free of charge with one attendant. Please present your disability identification upon arrival.

Number of visitors

313,737
"Monet is only an eye, but my God, what an eye!" Indeed, is there no more fitting praise for Monet, with his lifelong pursuit of the expression of light outdoors, than this comment by Cézanne. And yet, Monet's eye was not only for grasping momentary sensory impressions from natural landscapes. In his later years Monet painted landscapes replete with an evocative power that must be called the painter's own internal visions, honed down from his own memories.
This exhibition is jointly organized by the NMWA and the Pola Museum of Art, two museums that boast the finest Monet collections in Japan. It examines his works in terms of his composition of pictorial space, as well as through a comparison with works by other artists, and considers these examples of Monet's eye focused on landscape. The exhibition is centered on a core of 36 paintings spanning Monet's entire oeuvre, alongside works from Manet to Picasso drawn from the masterpieces of modern art in the two museums, plus related materials. This display vividly reveals the unique pictorial space created by Monet and fathoms the secret depths of Monet's eye, an eye that revolutionized modern landscape painting.
Lectures and Slide Talks will be also held at a museum. Please visit each page for details.
Exhibition Website

Claude Monet
《Water Lilies》 1916  oil on canvas 200.5 x 201cm
The National Museum of Western Art
Matsukata Collection

Claude Monet
《Waterloo Bridge in London》
1902  oil on canvas 65.7 x 100.5cm
The National Museum of Western Art
Matsukata Collection