Past Exhibitions


[Prints and Drawings Exhibition]
The Drawings of Maurice Denis: Traces of Inspiration on Paper
[Prints and Drawings Exhibition]
The Drawings of Maurice Denis: Traces of Inspiration on Paper

Maurice Denis
Portrait of Teizaburo Kuga
c. 1925
pastel on paper
The National Museum of Western Art
Dates

Saturday 15 October 2016 - Sunday 15 January 2017

Hours

9:30 am – 5:30 pm
Fridays・Saturdays 9:30 am - 8:00 pm
Admission ends 30 mins. before closing time

Closed

Mondays except 2 and 9 January 2017,
28 December 2016 to 1 January 2017.


10 January 2017 will be opend.

Venue

Prints and Drawings Gallery, NMWA

Organized by

The National Museum of Western Art

Admission Fees

Adults 430 yen (220 yen), College students 130 yen (70 yen)
Numbers in parentheses indicate discount fees for groups of 20 or more.
Admission is free for Special Exhibition or Permanent Collection ticket holders.
The Nabi School member Maurice Denis (1870-1943) is one of the painters who holds an important place in the Matsukata Collection. Two years ago the descendants of Kuga Teizaburô and Kuga Tarô donated four works, bringing the number of drawings by Denis in the NMWA collection to 26 works. Featuring the debut appearance of these four newly received gifts, this exhibition brings together drawings collected by Matsukata and related works. The display includes preparatory sketches for decorative murals and book illustrations, along with portraits given to his close friends. Each reveals traces of that moment when inspiration wells forth, often hidden in the final painted version of the work. These drawings also give a sense of the affection that Denis felt for his models.

Maurice Denis
Study for "The Bath" from Florentine Evening
1910
charcoal and pastel on paper
The National Museum of Western Art
Matsukata Collection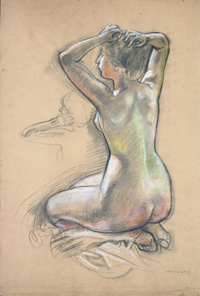 Maurice Denis
Study for "The Beach" from The Golden Age
1903-1912
charcoal and pastel on paper
The National Museum of Western Art
Matsukata Collection
Exhibition Checklist (PDF file, about 49KB)