---
Home » Exhibitions» Past Exhibitions

National Touring Exhibition of Western Art from the NMWA
When Here and Afar Meet: Western Art in Yamagata/ Western Art in Takaoka
(Yamagata)
National Touring Exhibition of Western Art from the NMWA
When Here and Afar Meet: Western Art in Yamagata

Dates:

Saturday, 17 July – Friday, 27 August 2021

Venue:

Yamagata Museum of Art

Organized by:

The National Museum of Western Art,
Yamagata Museum of Art, Yamagata Prefecture,
THE YAMAGATA NEWSPAPER CO.,
YAMAGATA BROADCASTING CO.,LTD.(YBC)

Co-organized by:

Yamagata Prefecture Lifelong Learning Culture Foundation

With the support of:

Yamagata Prefectural Board of Education,
Yamagata Prefectural Arts and Culture Association, Yamagata City,
Yamagata City Board of Education,
Yamagata City Arts and Culture Association

(Toyama)
National Touring Exhibition of Western Art from the NMWA
When Here and Afar Meet: Western Art in Takaoka

Dates:

Tuesday, 14 September – Sunday, 31 October 2021
Friday, 10 September – Sunday, 24 October 2021
*Dates Changed

Venue:

Takaoka Art Museum

Organized by:

The National Museum of Western Art,
Takaoka Art Museum,
Toyama Prefectural Board of Education,
THE KITANIPPON SHIMBUN

With the support of:

Toyama Prefecture, Takaoka City,
Board of Education of Takaoka City,
Toyama City FM
Every year the Independent Administrative Institution National Museum of Art (NMA) holds National Touring Exhibitions of works chosen from the collections of one of the six museums that make up the NMA. This year's exhibition features works from the NMWA. When Here and Afar Meet: Western Art in Yamagata/ Western Art in Takaoka, will be held at the Yamagata Museum of Art (Yamagata prefecture) and the Takaoka Art Museum (Toyama prefecture). As in years past, this exhibition will present NMA member museum collection works, but rather than simply touring those works in these venues, this time the NMWA works will be arranged alongside works and materials from each of the venue museum collections and other collections, providing an opportunity for mutual interactions and ideas to form from such positioning. While touching on memories and ideas specific to Yamagata and Takaoka, this display method will allow visitors to consider the meaning of Western art, which may have come to mean different things in each of those two venue cities. The memories of two local sculptors who both studied in Europe in the 1900s, Yamagata-born Shinkai Taketarô (1868-1927) and Takaoka-born Hompo Gitarô (1875-1907), were the starting point for this approach.
The NMWA has been closed since October 2020 for facilities maintenance work, with its reopening planned for the spring of 2022. This closure means that museum visitors in Yamagata and Takaoka will have an opportunity to experience the fascination of important NMWA collection paintings and sculptures normally only shown in Tokyo and will be able to consider them within the context of these two venue cities and their artistic milieu.
Events will be held in Yamagata and Takaoka in conjunction with the exhibition. For further information, please see the venue museum websites, posters and local media.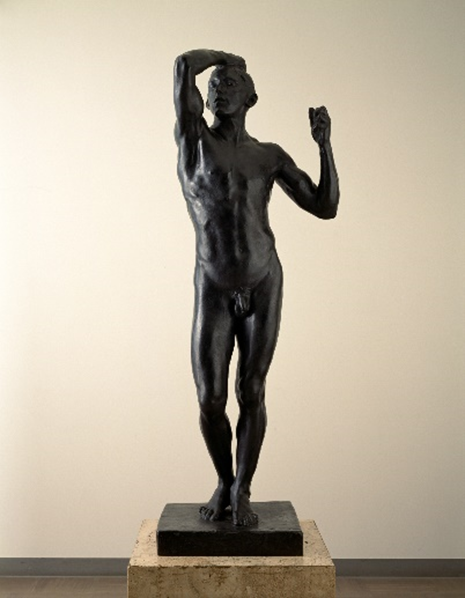 Auguste Rodin
The Age of Bronze
1877 (model), bronze,
Matsukata Collection
The National Museum of Western Art
Photo by (c) Norihiro Ueno
Berthe Morisot
Woman in Black (Before the Theater)
1875, Oil on canvas,
The National Museum of Western Art
Tiziano Vecellio, called Titian and workshop
Salome with the Head of St. John the Baptist
c. 1560-70, oil on canvas
The National Museum of Western Art
Claude Monet
Snow in Argenteuil
1875, Oil on canvas,
Matsukata Collection
The National Museum of Western Art