Past Exhibitions

Special Exhibition


Imaged and Imagined:


Spain Seen through Prints from Japanese Collections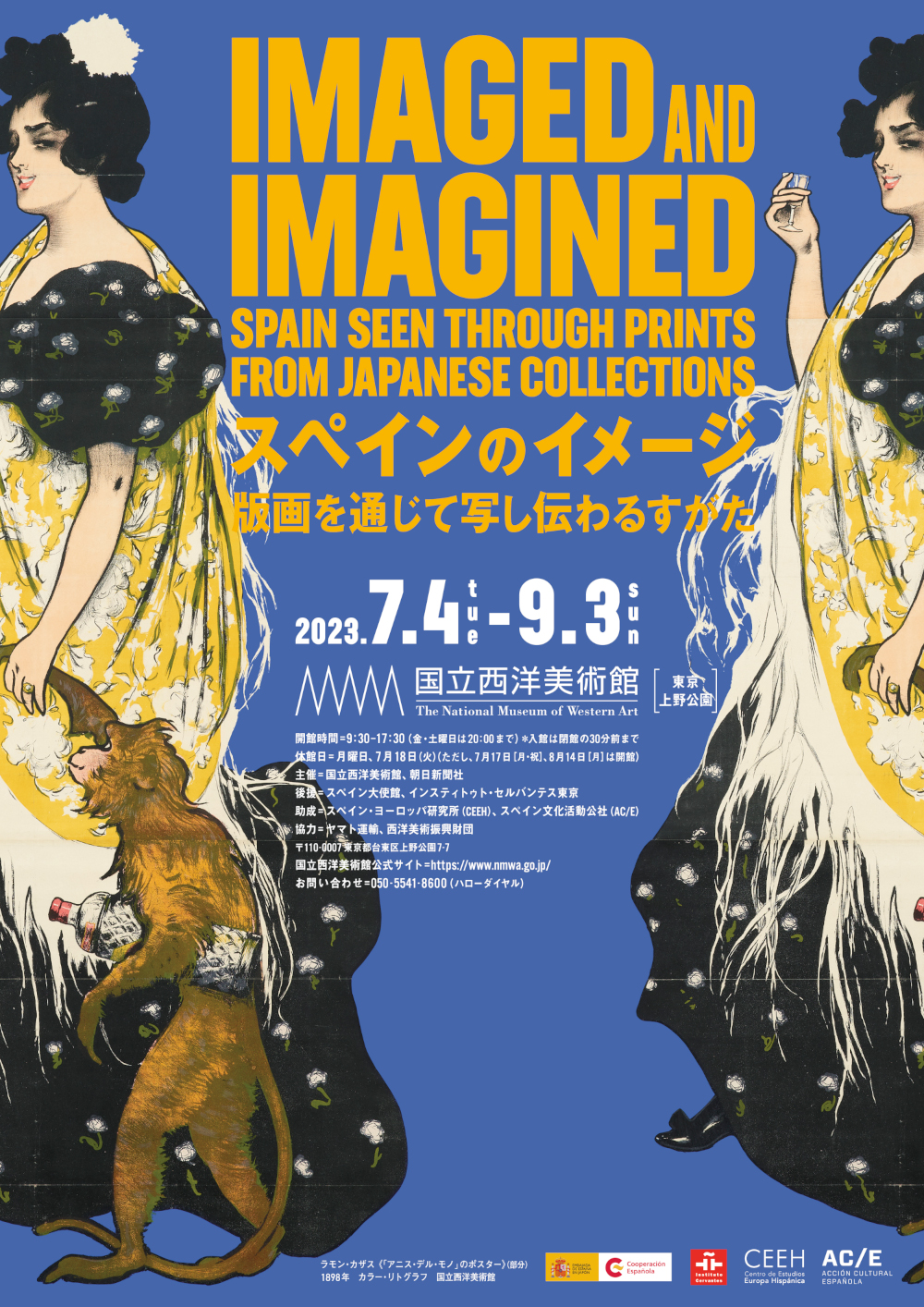 Dates

Tuesday, 4 July - Sunday, 3 September 2023

Hours

9:30 am – 5:30 pm
Fridays and Saturdays 9:30 am – 8:00 pm
Admission ends 30 mins. before closing time

Closed

Mondays (except for 17 July and 14 August) and 18 July

Venue

Special Exhibition Wing
Adults 1,700 yen, college and university students 1,300 yen

* High school students and all under 18 years of age are admitted free of charge. Please show their student identification card or identification which confirms your age.
* Disabled visitors with one attendant admitted free of charge. Please present your disability identification upon arrival.
* Students and faculty members at National Museum of Art Campus Member institutions may view this exhibition on specially priced tickets (students = 1,100 yen, faculty members = 1,500 yen). These tickets are available at the National Museum of Western Art Ticket Office.
* You can also see the permanent exhibition on the same day of viewing this exhibition.
* Reservations are not required to visit this exhibition.
Organized by

The National Museum of Western Art, Tokyo; The Asahi Shimbun

With the Support of

The Embassy of Spain in Japan; Instituto Cervantes de Tokio

In Collaboration with

Centro de Estudios Europa Hispánica (CEEH); Acción Cultural Española (AC/E)

Cooperated with

Yamato Transport Co., Ltd.; The Western Art Foundation
While today Spain is a favored destination for tourists from around the world, historically it was overlooked to the degree that there was the view that "after the Pyrenees comes Africa." It was an unknown land to its fellow Europeans, a foreign, little-understood country. Yet, the full movement of people and goods between the rest of Europe and Spain was set off by Napoleon's invasion and the Spanish War of Independence (1808-1814). This led to the full "discovery" of the exotic fascination of Spain by other European countries during the Romantic era. Flamenco, bullfighting, the Alhambra, Velázquez, Don Quixote – there are many typical images that come to mind at the mention of Spain, and these images were all established by foreign visitors to the country in the 19th century. The print form, which could be produced in multiple copies and easily distributed, was the medium that played a major role in the formation and spread of these images.
This exhibition presents a largely chronological view of the historical development of prints related to Spain from the early 17th century through the latter half of the 20th century. The approximately 240 works presented here consider the contribution made by prints, with their ability to copy and convey the formation and distribution of images related to Spanish culture and art. In addition to traversing the oeuvres of Goya, Fortuny, Picasso, Miró, Dalí, and other Spanish masters, the exhibition also introduces a number of works on Spanish subjects made in 19th-century France and England by Delacroix, Manet, and others. Working from the basis of the collections of the National Museum of Western Art, Tokyo, this exhibition is comprised of loans from some 40 lenders within Japan, making it an opportunity to consider how Spanish art has been received in Japan and how such extensive collections have been formed.
Exhibition Checklist (PDF file, about 499KB)

Francisco de Goya


Los Caprichos: 16, God Forgive her: and It Was her Mother


1799, Etching, aquatint, burnisher and drypoint
The National Museum of Western Art, Tokyo

Honoré Daumier


Don Quixote and Sancho Panza


1850-52, Oil on panel
Itami City Museum of Art, History and Culture

Ramon Casas


Poster for the Anís del Mono


1898, Color lithograph
The National Museum of Western Art, Tokyo